Throwback Thursday - The Economic Migrants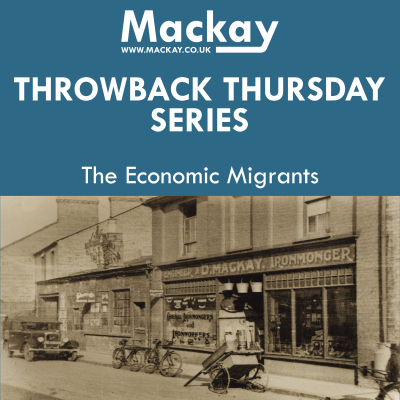 Although we now think of ourselves as Cambridge through and through, the first generation Mackays of Cambridge were migrants driven by economic hardship from their homeland on the Black Isle in the Scottish Highlands.
A story of beginning
Whilst the firm came into being in June 1912, the move south started gradually years before then when the father of our original founder, Duncan MacKay of Elgin, Morayshire, got a job with the North British Railway in Burntisland, Fife, and took his wife and his then only son, (Donald Mackay I), with him to live in the gatekeeper's cottage at Burntisland station.
Having worked in Portillo's hardware shop in Burntisland's High Street, Donald got the bug and became ambitious trying his luck with the great and long established (1759) Carron Ironworks at Stenhousemuir where he achieved the position as a foreman in a department. His son Duncan and daughter Isabella were both born in Stenhousemuir.
The first generation
Donald and his son Duncan, having escaped from depressed economic conditions in Scotland, obtained employment with one of the early affluent Cambridge department stores that was then on Fitzroy Street, Laurie and McConnal's, which dealt in practically everything. Donald gained a position as Manager of the Hardware Section, (the building more recently became occupied by Wilkinsons) but when McConnal retired, Donald proceeded to have a monumental falling-out with Laurie.
A little ambition
There was a wheelwright and fencing firm named Alsop and Sons operating in Cambridge at the time and old Donald is said to have approached the Mr. John Alsop with a proposition: "A very fine business you have here, do you want to sell it?" Although Alsop had seven sons slaving away at the forges and hammering away on the anvils he sold his Britannia Ironworks business to Donald MacKay over their heads. A number of his descendants are still around in Cambridge and some still feel sore about that. But Donald was as fair as he could have been.
Found in Cambridge
And there started Mackays of Cambridge. Set up by an economic migrant with smarts, a willingness to work and an eye for an opportunity. A formula we have been trying to build upon ever since.
Thursday 22nd June 2017