Christmas Window Winners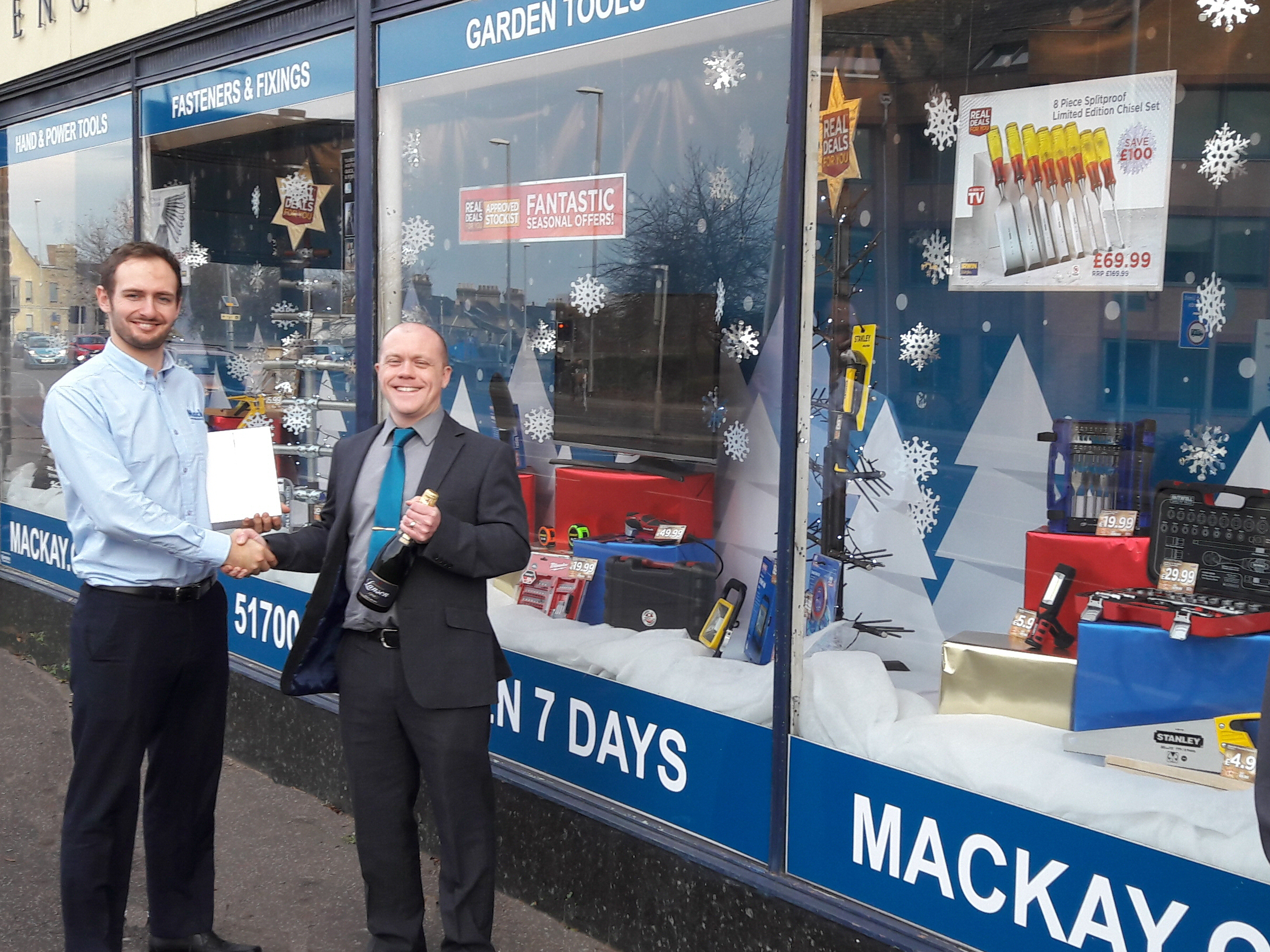 Mackays of Cambridge Ltd are theProud Winnersof a prestigious National Shop Window Competition.
The'Real Deals'Shop Window Competition is sponsored by Toolbank the UK's largest Hand and Power tools wholesaler. The Window competition is open to all of the more than 2000 participating independant dealers involved in the'Real Deals'promotion. Approaching 300 of the participating dealers took up the challenge. The competition was judged by a totally independant team of experianced industry experts and this yearMackays of Cambridge came 1st nationally.
Mackays have entered the'Real Deals'shop window competition each year since the promotion was first introduced by Toolbank. Last year Mackays came second nationally, so this year Neil Mackay was determined that Mackays would top the podium.
Earlier in the year Neil set the staff inMetals Warehousethe challenge of creating four eye catching 'Alternative' Christmas trees, fashioned from the wide range of materials sold in the Metals Warehouse.
"I gave the team in the warehouse free reign to design their own individual tree, therefore each of the trees has a quirky original style to it. We have even had customers asking us to manufacture them to take home!"


Neil Mackay then set his colleagues in the front shop the challenge of creating four separate window displays, each display to be based around one of the metal 'Alternative' Christmas trees. The project team was headed up by Marketing Manager Sam Wilson.
"I was delighted with the way Sam pulled all the elements of the project together. I set his team a tough task to make sure we wonGOLDthis year. Sam's team won through, I could not be more delighted!"
Andrew Mackay received the 1st Prize of an 32gb Apple Ipad air tablet computer and a bottle of champagne from Toolbanks Regional Manager Matt Rounce last week.
A great deal of time and effort has also been put into our website that features a dedicated section for'Real Deals'. The website includes and makes the most of all 67 brilliant videos that Toolbank have created, take a look at theEinhell Multi Toolfor an example.
Wednesday 14th December 2016